24th Annual Serendipity Is Thursday, September 5th
WHITFIELD— September is approaching fast, and art admirers across the state know what that means – Mississippi State Hospital's annual Serendipity art show and silent auction is almost here.
Always held the first Thursday of September, this year's Serendipity is set for Thursday, September 5, from 11:30 a.m. until 6 p.m. on the MSH campus. The art show and silent auction plays host to artwork created solely by patients and residents of the hospital's Art Services program and has through the decades become a draw for people from all over the state who know they'll find pieces there they won't be able to get anywhere else.
"Serendipity has been described as one of Mississippi's best kept secrets, and I think that's definitely true," Art Services Director Evelyn Bates said. "The state has a rich tradition in music, literature, and art, and the work on display in Serendipity continues that tradition."
The art and ceramic work on display in the show is all created by individuals served through the MSH Art Services Department. They are patients from across the hospital's services, including adults and children served at the hospital and residents of Jaquith Nursing Home, located on the MSH campus.
The art program gives them a chance to express themselves through their work, whether they have any formal training in the arts or not. For many, it is an important part of the therapeutic process.
"The act of creating the work has a real therapeutic value for many of our artists, and then seeing it on display during Serendipity gives the artists a real feeling of success and a boost to their self-esteem, knowing that other people place such a high value on it," Bates said.
And people do place value on the work – all of the pieces on display are also available to own via silent auction. Interested visitors just need to write a bid down on the available forms, and if they have the highest offer when bidding closes at 6 p.m. they'll get to take it home with them.
Everyone is welcome to attend the show, but visitors don't need to be present to win – all they have to do is have the highest bid that was placed. Anyone really setting their sights on a specific piece will probably want to be there when bidding ends though, since the closing minutes have been known to see some people scrambling around trying to leave their competitors with no time to spare for a higher bid of their own.
Last year was a record for Serendipity, with every single piece that was available ending up with a bid on it. As in years past, this year's selection will include including paintings, drawings, collages and ceramics.
"No two years are alike, and no two pieces are the same," Bates said. "We're looking forward to showcasing our artists' skill and will be happy for everyone to come see the work they have created."
MSH, a program of the Mississippi Department of Mental Health, was founded in 1855 and facilitates improvement in the quality of life for Mississippians who are in need of mental health, chemical dependency or nursing home services by rehabilitating to the least restrictive environment and utilizing a range of psychiatric and medical services that reflect the accepted standard of care and are in compliance with statutory and regulatory guidelines. The hospital is accredited by the Joint Commission.
MSH Art Instructor Ron Lindsey looks over some of the pieces in last year's show before the bidding began. 2012 was a record year for Serendipity, with every piece on display bid on and purchased by visitors.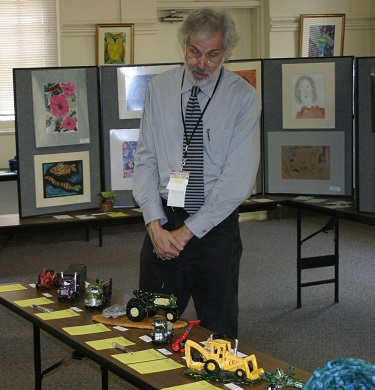 Pictured below is one of the pieces that will be on display in this year's Serendipity art show and silent auction at Mississippi State Hospital on Thursday, September 5. Artwork will include paintings in a variety of media as well as ceramics. Bidding will be open from 11:30 a.m. until 6 p.m., and the show is open to the public.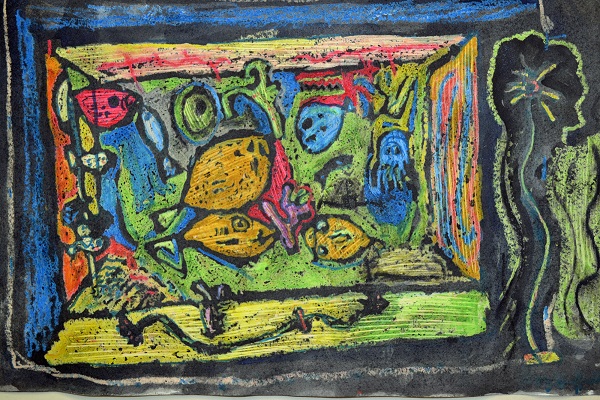 Pictured below is an Serendipity 2013 Invite Card