How to Access Crisis Services in Mississippi
Mental health problems are health conditions that can affect the way someone thinks, feels, or behaves. However, just as with any other health problem, it is important to address a mental health problem as quickly as possible. A mental health crisis is any situation in which someone's behavior puts them at risk of becoming unable to properly provide self-care, of functioning in the community, or maybe even of hurting themselves. Just as with physical health problems, there may be times when a mental health crisis occurs unexpectedly. It is important to know what resources are available to you. Two programs that provide crisis services in Mississippi are Mobile Crisis Response Teams and Crisis Stabilization Units.
Navigating a Mental Health Crisis
"Navigating a Mental Health Crisis: A NAMI Resource Guide for Those Experiencing a Mental Health Emergency" provides important, potentially life-saving information for people experiencing mental health crises and their loved ones. This guide outlines what can contribute to a crisis, warning signs that a crisis is emerging, strategies to help de-escalate a crisis, available resources and so much more. Click the image to the right to view this document.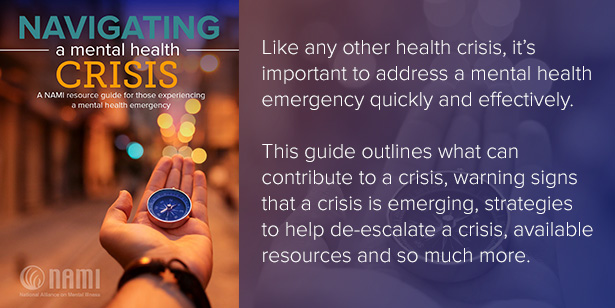 Crisis Intervention Teams
Crisis Intervention Teams are partnerships between law enforcement officers and a variety of agencies, including CMHCs, primary health providers, and other behavioral health professionals.  Click here for more information on Crisis Intervention Teams.
Mobile Crisis Response Teams
Mobile Crisis Response Teams provide community-based crisis services that deliver solution-focused and recovery-oriented behavioral health assessments and stabilization of crisis in the location where the individual is experiencing the crisis. Mobile Crisis Response Teams (MCeRTs) work hand-in-hand with local law enforcement, Chancery Judges and Clerks, and the Crisis Stabilization Units to ensure a seamless process. The teams ensure an individual has a follow-up appointment with their preferred provider and monitor the individual until the appointment takes place.
MCeRTs are coordinated through the local Community Mental Health Centers. Please click here for more information about Mississippi's 13 regional Community Mental Health Centers. You can find more information about MCeRTs by clicking here, and please see below for Mobile Crisis Response Team contact information.
Region 12
800-681-0798
Stone, Harrison, & Hancock
Region 15
601-638-0031
Warren
Region 15
662-746-5712
Yazoo
Crisis Stabilization Units
The role of the Crisis Stabilization Units is to provide stabilization and treatment services to persons who are in psychiatric crisis, without the need for an inpatient admission to a state psychiatric hospital. CSUs offer voluntary and involuntary treatment services. In addition, after treatment an individual will already be connected with their local Community Mental Health Center.
Crisis Stabilization Units Map
Batesville Crisis Stabilization Unit
662-563-9176
Brookhaven Crisis Stabilization Unit
601-823-2300
Cleveland Crisis Stabilization Unit
662-846-2620
Corinth Crisis Stabilization Unit
662-286-5469
Gautier Crisis Stabilization Unit
228-497-0434
Grenada Crisis Stabilization Unit
662-227-3700
Gulfport Crisis Stabilization Unit
228-213-3900
Jackson Crisis Stabilization Unit
769-257-6288
Laurel Crisis Stabilization Unit
601-426-7520
Marks Crisis Stabilization Unit
662-485-0498
Natchez Crisis Stabilization Unit
601-492-4001
Newton Crisis Stabilization Unit
601-683-4300
Tupelo Crisis Stabilization Unit
662-304-2900
West Point Crisis Stabilization Unit
662-494-4066