Register now for the 2022 Trauma Informed Care Conference, September 21-23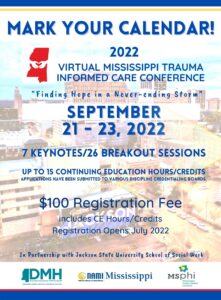 Registration is now open for the annual Mississippi Trauma-Informed Care Conference. With the theme of "Finding Hope in a Never Ending Storm," this year's conference will be a virtual event with seven keynotes and 26 different breakout sessions, taking place September 21 – 23, 2022.
Keynotes and breakout sessions will encourage new coping strategies and resiliency for service providers. You'll have an opportunity to continue your professional development and earn up to 15 Continuing Education Hours from multiple continuing education credentialing agencies. Register and find more information about the agenda and continuing education at www.mstraumaconference.com.
WHO SHOULD ATTEND?​
The target audience includes those directly or indirectly impacted by trauma, including but not limited to:
Mental Health and Addiction Professionals
Social Workers
Marriage and Family Therapists
National Certified Counselors
Juvenile Justice Personnel – judges, counselors, administrators, probation officers
Educators – teachers, administrators, counselors
Domestic Violence and other advocates
Parents/Guardians/Foster Parents/Resource Parents
Community and Faith Based
Peer Support Specialists
Survivors and family members
REGISTRATION FEE
​The fee for the conference is $100.00. There is not a daily fee or other reduced fees.