Think Again About Mental Health + Chronic Illness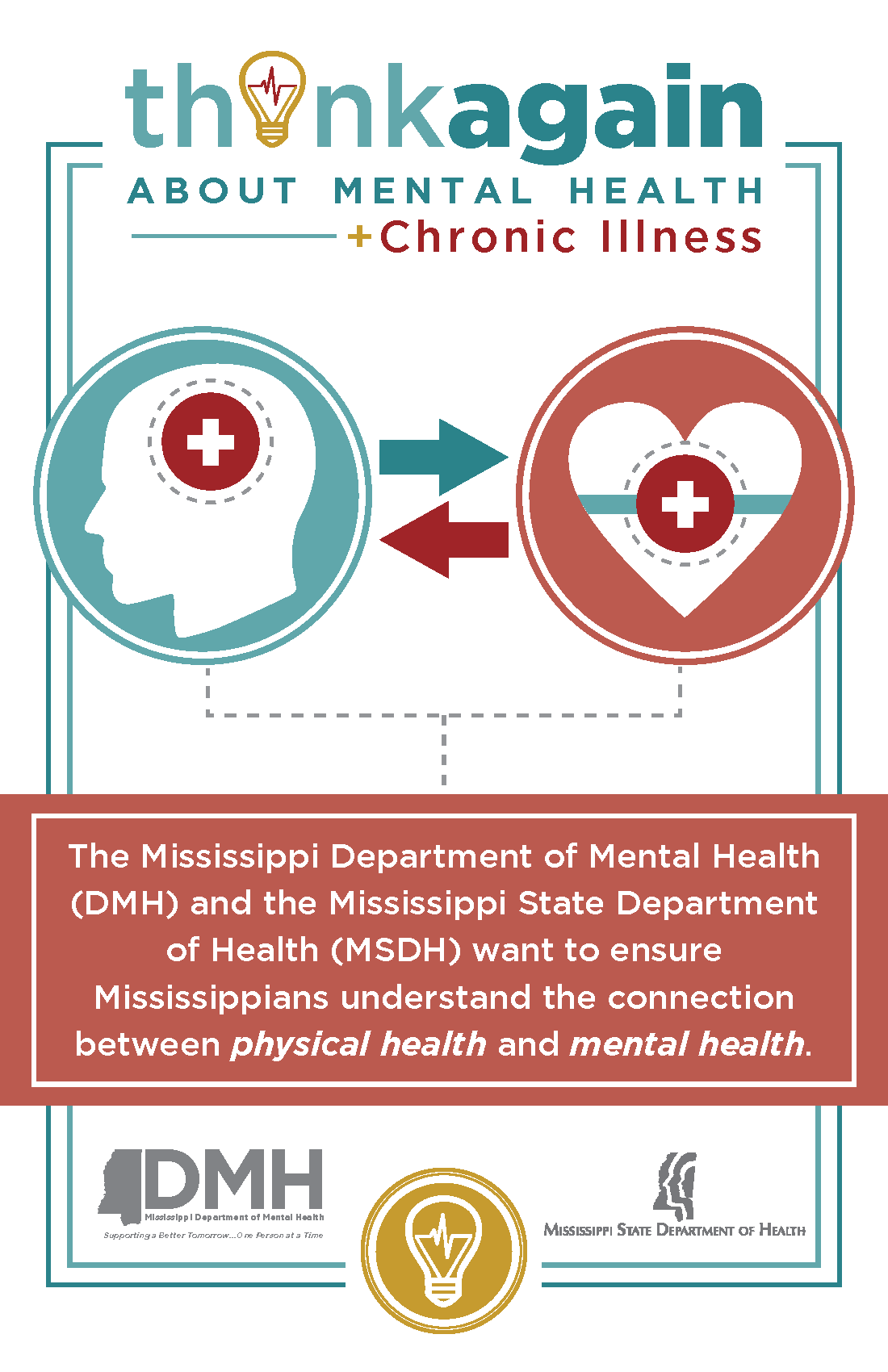 May 23, 2019 (Jackson, Miss) – May is recognized around the world as Mental Health Awareness Month, a time to focus on mental health, learn about the steps everyone can take to stay mentally healthy, and to remind everyone that recovery from mental illness is possible.
This month, the Mississippi Department of Mental Health is partnering with the Mississippi State Department of Health to focus on the ways our mental health and physical health work together. The Department of Mental Health will be sharing with individuals who receive services at its programs information about chronic illnesses, including Mississippi State Department of Health programs that promote self-management and wellness. The Motivated to Live a Better Life network provides community-based programs for anyone living with chronic health programs or who is concerned about personal safety. These evidence-based programs consist of free, hands-on workshops in which participants learn strategies to self-manage health conditions. You can find out more details about these programs by calling the Department of Health's Office of Preventive Health at 601-206-1559 or visiting www.healthyms.com/ph.
In Mississippi, we are all too familiar with chronic health conditions like diabetes, obesity, and heart disease. The Mississippi Department of Mental Health and the Mississippi State Department of Health want to ensure Mississippians understand the connection between physical health and mental health. Staying healthy means not just caring for our body, but our minds as well.
A healthy lifestyle can prevent the onset or delay the worsening of depression, anxiety, and other mental health conditions, as well as heart disease, diabetes, obesity, and other chronic health conditions.
Practicing just a few simple steps can keep you stronger mentally and physically and help improve your overall recovery. Choose healthy foods and get some daily exercise to lower stress, improve moods, control weight, and improve sleep.
Meaningful daily activities, like a job, school, volunteering, or creative hobbies, can also increase self-esteem and reduce stress.
Following doctors' directions and taking medication – whether for a physical or a mental illness – can improve treatment outcomes. If you have questions or concerns, you can always feel free to follow up with your doctor.
Together, the Mississippi Department of Mental Health and the State Department of Health are working to change the way we think about our health and wellness. It's time to think again about mental health and for Mississippians to realize just how connected our mental health and our physical health issues are.